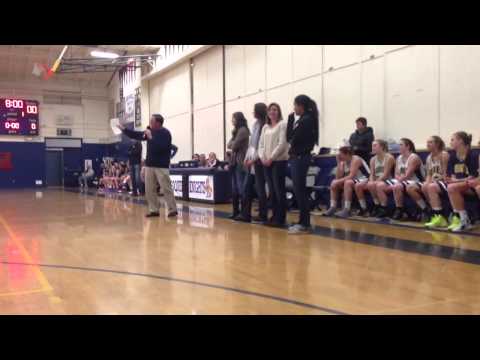 Former Soquel High girls basketball standout Ragine Graves may have eclipsed 1,000 points in her career during her senior campaign last season, but she wasn't officially honored until Wednesday night in Soquel.
Coach John Wilson presented Graves with a framed No. 4 jersey during a brief ceremony prior to the Knights' Santa Cruz Coast Athletic League opener against visiting Aptos.
Standing beside Annalise Bryant, Erika Bertelsen and Amanda Spinola — who, along with Graves, were the four seniors on Soquel's CCS-winning team last year — Wilson first highlighted the title-winning team before speaking of Graves' accomplishments and character.
Wilson called Graves "one of the greatest players in school history." Her No. 4 jersey will hang on the far wall at the Soquel High gymnasium along with the rest of the 1,000-point scorers in school history.
"It's such an honor," said Graves, who was on holiday break from the University of Chicago where she plays on the volleyball team. "I remember my freshman year, seeing all those numbers up there and thinking how awesome it would be, and also how impossible and how hard it would be."
Graves scored 380 points during her senior season.
She joins eight others on the wall, including Samantha Hart (No. 24, 2005), Lauren Passafuime (No. 22, 2006), Hannah Passafuime (No. 5, 2008), Ashley Dunn (No. 23, 2004), Ashley Oakes (No. 21, 2004), Alisha Sipin (No. 15, 1999), Lynn Beebe (No. 25, 1982) and Raeann Pifferini (No. 25, 1987).
Wilson said the very first jersey that was hung on the wall belonged to Sipin. When they began to pore over stats and record books from past years, they came across others, like Pifferini.
"It ended up being some of our greatest players," Wilson said.